---
Rock, fossil & shell hunting / by Jennifer Swanson ; illustrated by John D. Dawson ; edited by Justin Krasner.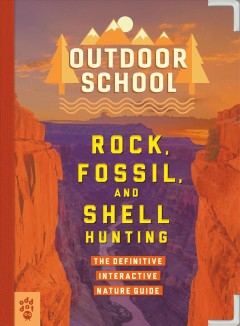 Available copies
Current holds
0 current holds with 1 total copy.
Summary:
"Rewild your life! With metal corners and 440 full-color, highly-illustrated pages, OUTDOOR SCHOOL is your indispensable tool for the outdoors. Make every day an adventure with immersive activities to get you exploring, write-in sections to journal about experiences, and next-level adventures to challenge even seasoned nature lovers. No experience is required, just curiosity and courage. This interactive field guide to rocks, fossils, & shells includes: Digging, chiseling, hammering, and wading for rocks and minerals -- Identifying rocks & minerals by location, texture, color, shape and size -- Recognizing rocks, geodes, and space rocks -- Finding fossils and setting up a dig site -- Searching and snorkeling for shells -- Storing and displaying your collection -- and so much more!"--
Location
Call Number / Copy Notes
Barcode
Shelving Location
Circulation Modifier
Age Hold Protection
Active/Create Date
Status
Due Date

Pendleton Public Library

X 552.0078 Sw24

(Text)
37801000679264

Juvenile Non-Fiction

Book
System_Only_3months
06/12/2021
Available
-
Record details
ISBN:

9781250230652

Physical Description:

440 pages : color illustrations, maps ; 21 cm.

Edition:

First Edition.

Publisher:

New York :

Odd Dot,

2021.
Content descriptions
General Note:

"The definitive interactive guide."

Spine title: Outdoor school: rock, fossil, and shell hunting

Summary, etc.:

"Rewild your life! With metal corners and 440 full-color, highly-illustrated pages, OUTDOOR SCHOOL is your indispensable tool for the outdoors. Make every day an adventure with immersive activities to get you exploring, write-in sections to journal about experiences, and next-level adventures to challenge even seasoned nature lovers. No experience is required, just curiosity and courage. This interactive field guide to rocks, fossils, & shells includes: Digging, chiseling, hammering, and wading for rocks and minerals -- Identifying rocks & minerals by location, texture, color, shape and size -- Recognizing rocks, geodes, and space rocks -- Finding fossils and setting up a dig site -- Searching and snorkeling for shells -- Storing and displaying your collection -- and so much more!"-- Provided by publisher.

Target Audience Note:

Ages 10-14 years Odd Dot

Grades 7-9 Odd Dot
Search for related items by subject
LDR
02354cam a2200433 i 4500
001
2295098
003
SAGE
005
20210520213109.0
008
200521s2021 nyuabdkj 001 0 eng
010

.

‡a

2020021757
020

.

‡a

9781250230652

‡q

(softcover)
042

.

‡a

pcc
040

.

‡a

DLC

‡b

eng

‡e

rda

‡c

DLC

‡d

DLC
050
0
0

.

‡a

QE432.2

‡b

.S93 2021
082
0
0

.

‡a

552.0078

‡2

23
100
1

.

‡a

Swanson, Jennifer,

‡0

(DLC)n 2011006622

‡e

author.
245
1
0

.

‡a

Rock, fossil & shell hunting /

‡c

by Jennifer Swanson ; illustrated by John D. Dawson ; edited by Justin Krasner.
246
3

.

‡a

Rock, fossil, and shell hunting
250

.

‡a

First Edition.
264
1

.

‡a

New York :

‡b

Odd Dot,

‡c

2021.
300

.

‡a

440 pages :

‡b

color illustrations, maps ;

‡c

21 cm.
336

.

‡a

text

‡b

txt

‡2

rdacontent
337

.

‡a

unmediated

‡b

n

‡2

rdamedia
338

.

‡a

volume

‡b

nc

‡2

rdacarrier
385

.

‡n

age

‡a

Children

‡2

lcdgt
490
0

.

‡a

Outdoor School
521

.

‡a

Ages 10-14 years

‡b

Odd Dot
521

.

‡a

Grades 7-9

‡b

Odd Dot
500

.

‡a

"The definitive interactive guide."
500

.

‡a

Spine title: Outdoor school: rock, fossil, and shell hunting
520

.

‡a

"Rewild your life! With metal corners and 440 full-color, highly-illustrated pages, OUTDOOR SCHOOL is your indispensable tool for the outdoors. Make every day an adventure with immersive activities to get you exploring, write-in sections to journal about experiences, and next-level adventures to challenge even seasoned nature lovers. No experience is required, just curiosity and courage. This interactive field guide to rocks, fossils, & shells includes: Digging, chiseling, hammering, and wading for rocks and minerals -- Identifying rocks & minerals by location, texture, color, shape and size -- Recognizing rocks, geodes, and space rocks -- Finding fossils and setting up a dig site -- Searching and snorkeling for shells -- Storing and displaying your collection -- and so much more!"--

‡c

Provided by publisher.
650
0

.

‡a

Rocks

‡v

Juvenile literature.

‡0

(DLC)sh2008110989
650
0

.

‡a

Fossils

‡v

Juvenile literature.

‡0

(DLC)sh2008104067
650
0

.

‡a

Shells

‡v

Juvenile literature.

‡0

(DLC)sh2008111399
700
1

.

‡a

Dawson, John D.,

‡0

(DLC)n 85104754

‡e

illustrator.
700
1

.

‡a

Krasner, Justin,

‡e

editor.
902

.

‡a

MARCIVE 072021
999

.

‡e

Book
905

.

‡u

admin
901

.

‡a

21537906

‡b

System Local

‡c

2295098

‡t

biblio