---
Four hundred souls : a community history of African America, 1619-2019 / edited by Ibram X. Kendi and Keisha N. Blain.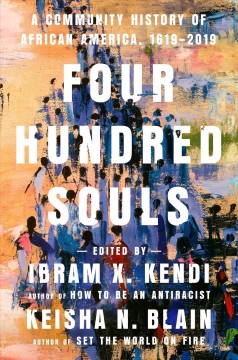 Available copies
Current holds
0 current holds with 12 total copies.
Summary:
"A "choral history" of African Americans covering 400 years of history in the voices of 80 writers, edited by the bestselling, National Book Award-winning historian Ibram X. Kendi and Keisha N. Blain. Last year marked the four hundredth anniversary of the first African presence in the Americas--and also launched the Four Hundred Souls project, spearheaded by Ibram X. Kendi, director of the Antiracism Institute of American University, and Keisha Blain, editor of The North Star. They've gathered together eighty black writers from all disciplines -- historians and artists, journalists and novelists--each of whom has contributed an entry about one five-year period to create a dynamic multivoiced single-volume history of black people in America." --Provided by publisher.
Location
Call Number / Copy Notes
Barcode
Shelving Location
Circulation Modifier
Age Hold Protection
Active/Create Date
Status
Due Date

Pendleton Public Library

973.0496073 F825

(Text)
37801000675502

Adult Non-Fiction

Book
None
05/08/2021
Available
-

Hermiston Public Library

973 FOU

(Text)
37838000727834

Adult Non-Fiction

Book
Branch_Only_3months
03/24/2021
Available
-

Pilot Rock Public Library

McN 973 FOU

(Text)
37868000146776

McNaughton Collection

Book
None
02/24/2021
Available
-
Record details
ISBN:

9780593134047

ISBN:

0593134044

Physical Description:

xvii, 504 pages ; 25 cm

Edition:

First edition.

Publisher:

New York :

One World,

[2021]

Copyright:

©2021
Content descriptions
| | |
| --- | --- |
| Bibliography, etc. Note: | Includes bibliographical references (pages 397-442) and index. |
| Formatted Contents Note: | A community of souls : an introduction / by Ibram X. Kendi -- Part one. 1619-1624 : arrival / by Nikole Hannah-Jones ; 1624-1629 : Africa / by Molefi Kete Asante ; 1629-1634 : whipped for lying with a Black woman / by Ijeoma Oluo ; 1634-1639 : tobacco / by Damaris B. Hill ; 1639-1644 : Black women's labor / by Brenda E. Stevenson ; 1644-1649 : Anthony Johnson, colony of Virginia / by Maurice Carlos Ruffin ; 1649-1654 : the Black family / by Heather Andrea Williams ; 1654-1659 : unfree labor / by Nakia D. Parker ; Poem : "upon arrival" / by Jericho Brown -- Part two. 1659-1664 : Elizabeth Keye / by Jennifer L. Morgan ; 1664-1669 : the Virginia law on baptism / by Jemar Tisby ; 1669-1674 : the royal African company / by David A. Love ; 1674-1679 : Bacon's rebellion / by Heather C. McGhee ; 1679-1684 : the Virginia law that forbade bearing arms; or the Virginia law that forbade armed self-defense / by Kellie Carter Jackson ; 1684-1689 : the code noir / by Laurence Ralph ; 1689-1694 : the Germantown petition against slavery / by Christopher J. Lebron ; 1694-1699 : the middle passage / by Mary E. Hicks ; Poem : "Mama, where you keep your gun?" / by Phillip B. Williams -- Part three. 1699-1704 : the selling of Joseph / by Brandon R. Byrd ; 1704-1709 : the Virginia slave codes / by Kay Wright ; 1709-1714 : the revolt in New York / by Herb Boyd ; 1714-1719 : the slave market / by Sasha Turner ; 1719-1724 : maroons and marronage / by Sylviane A. Diouf ; 1724-1729 : the spirituals / by Corey D. B. Walker ; 1729-1734 : African identities / by Walter C. Rucker ; 1734-1739 : from Fort Mose to soul city / by Brentin Mock ; Poem : "before revolution" / by Morgan Parker -- Part four. 1739-1744 : the Stono rebellion / by Wesley Lowery ; 1744-1749 : Lucy Terry Prince / by Nafissa Thompson-Spires ; 1749-1754 : race and the enlightenment / by Dorothy E. Roberts ; 1754-1759 : Blackness and indigeneity / by Kyle T. Mays ; 1759-1764 : one Black boy : the Great Lakes and the Midwest / by Tiya Miles ; 1764-1769 : Phillis Wheatley / by Alexis Pauline Gumbs ; 1769-1774 : David George / by William J. Barber II ; 1774-1779 : the American revolution / by Martha S. Jones ; Poem : "not without some instances of uncommon cruelty" / by Justin Phillip Reed -- Part five. 1779-1784 : Savannah Georgia / by Daina Ramey Berry ; 1784-1789 : the U.S. Constitution / by Donna Brazile ; 1789-1794 : Sally Hemings / by Annette Gordon-Reed ; 1794-1799 : the fugitive slave act / by Deirdre Copper Owens ; 1799-1804 : higher education / by Craig Steven Wilder ; 1804-1809 : cotton / by Kiese Laymon ; 1809-1814 : the Lousiana rebellion / by Clint Smith ; 1814-1819 : queer sexuality / by Raquel Willis ; Poem : "remembering the Albany 3" / by Ishmael Reed -- Part six. 1819-1824 : Denmark Vesey / by Robert Jones, Jr. ; 1824-1829 : Freedom's Journal / by Pamela Newkirk ; 1829-1834 : Maria Stewart / by Kathryn Sophia Belle ; 1834-1839 : the national Negro conventions / by Eugene Scott ; 1839-1844 : racial passing / by Allyson Hobbs ; 1844-1849 : James McCune Smith, M.D. / by Harriet A. Washington ; 1849-1854 : Oregon / by Mitchell S. Jackson ; 1854-1859 : Dred Scott / by John A. Powell ; Poem : "compromise" / by Donika Kelly -- Part seven. 1859-1864 : Frederick Douglass / by Adam Serwer ; 1864-1869 : the Civil War / by Jamelle Bouie ; 1869-1874 : reconstruction / by Michael Harriot ; 1874-1879 : Atlanta / by Tera W. Hunter ; 1879-1884 : John Wayne Niles / by William A. Darity, Jr. ; 1884-1889 : Philadelphia / by Kali Nicole Gross ; 1889-1894 : lynching / by Crystal N. Feimster ; 1894-1899 : Plessy v. Ferguson / by Blair L. M. Kelley ; Poem : "John Wayne Niles ... . --. . .- -.- ... / - ---Ermias Joseph Asghedom" / by Mahogany L. Browne -- Part eight. 1899-1904 : Booker T. Washington / by Derrick Alridge ; 1904-1909 : Jack Johnson / by Howard Bryant ; 1909-1914 : the Black public intellectual / by Beverly Guy-Sheftall ; 1914-1919 : the great migration / by Isabel Wilkerson ; 1919-1924 : red summer / by Michelle Duster ; 1924-1929 : the Harlem Renaissance / by Farah Jasmine Griffin ; 1929-1934 : the Great Depression / by Robin D. G. Kelley ; 1934-1939 : Nora Neale Hurston / by Bernice L. McFadden ; Poem : "coiled and unleashed" / by Patricia Smith -- Part nine. 1939-1944 : the Black soldier / by Chad Williams ; 1944-1949 : the Black left / by Russell Rickford ; 1949-1954 : the road to Brown v. Board of Education / by Sherrilyn Ifill ; 1954-1959 : Black arts / by Imani Perry ; 1959-1964 : the Civil Rights Movement / by Charles E. Cobb, Jr. ; 1964-1969 : Black power / by Peniel Joseph ; 1969-1974 : property / by Keeanga-Yamahtta Taylor ; 1974-1979 : Combahee river collective / by Barbara Smith ; Poem : "and the record repeats" / by Chet'la Sebree -- Part ten. 1979-1984 : the war on drugs / by James Forman, Jr. ; 1984-1989 : the hip-hop generation / by Bakari Kitwana ; 1989-1994 : Anita Hill / by Salamishah Tillet ; 1994-1999 : the crime bill / by Angela Y. Davis ; 1999-2004 : the Black immigrant / by Esther Armah ; 2004-2009 : Hurricane Katrina / by Deborah Douglas ; 2009-2014 : the Shelby ruling / by Karine Jean-Pierre ; 2014-2019 : Black Lives Matter / by Alicia Garza ; Poem : American Abecedarian" / by Joseph Bennett -- Conclusion : our ancestor's wildest dreams / by Keisha N. Blain. |
| Summary, etc.: | "A "choral history" of African Americans covering 400 years of history in the voices of 80 writers, edited by the bestselling, National Book Award-winning historian Ibram X. Kendi and Keisha N. Blain. Last year marked the four hundredth anniversary of the first African presence in the Americas--and also launched the Four Hundred Souls project, spearheaded by Ibram X. Kendi, director of the Antiracism Institute of American University, and Keisha Blain, editor of The North Star. They've gathered together eighty black writers from all disciplines -- historians and artists, journalists and novelists--each of whom has contributed an entry about one five-year period to create a dynamic multivoiced single-volume history of black people in America." --Provided by publisher. |
Search for related items by subject