---
The negative trait thesaurus : a writer's guide to character flaws / Angela Ackerman, Becca Puglisi.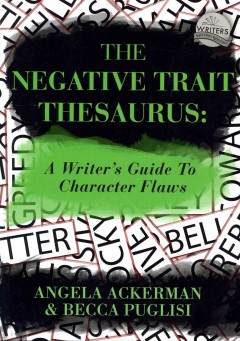 Available copies
Current holds
0 current holds with 1 total copy.
Summary:
Crafting likable, interesting characters is a balancing act, and finding that perfect mix of strengths and weaknesses can be difficult. But the task has become easier thanks to The Negative Trait Thesaurus. Through its flaw-centric exploration of character arc, motivation, emotional wounds, and basic needs, writers will learn which flaws make the most sense for their heroes, villains, and other members of the story's cast. This book's vast collection of flaws will help writers to explore the possible causes, attitudes, behaviors, thoughts, and related emotions behind their characters' weaknesses so they can be written effectively and realistically. Common characterization pitfalls and methods to avoid them are also included, along with invaluable downloadable tools to aid in character creation. Written in list format and fully indexed, this brainstorming resource is perfect for creating deep, flawed characters that readers will relate to.
Search for related items by series
Location
Call Number / Copy Notes
Barcode
Shelving Location
Circulation Modifier
Age Hold Protection
Active/Create Date
Status
Due Date

Pendleton Public Library

808.3 A57

(Text)
37801000666758

Adult Non-Fiction

Book
None
11/13/2020
Available
-
Record details
ISBN:

9780989772501

(softcover)
ISBN:

0989772500

(softcover)
Physical Description:

263 pages ; 26 cm.

Edition:

1st print ed.

Publisher:

[Jupiter, Fla.] :

JADD Pub.,

2013.
Content descriptions
| | |
| --- | --- |
| Bibliography, etc. Note: | Includes bibliographical references and index. |
| Summary, etc.: | Crafting likable, interesting characters is a balancing act, and finding that perfect mix of strengths and weaknesses can be difficult. But the task has become easier thanks to The Negative Trait Thesaurus. Through its flaw-centric exploration of character arc, motivation, emotional wounds, and basic needs, writers will learn which flaws make the most sense for their heroes, villains, and other members of the story's cast. This book's vast collection of flaws will help writers to explore the possible causes, attitudes, behaviors, thoughts, and related emotions behind their characters' weaknesses so they can be written effectively and realistically. Common characterization pitfalls and methods to avoid them are also included, along with invaluable downloadable tools to aid in character creation. Written in list format and fully indexed, this brainstorming resource is perfect for creating deep, flawed characters that readers will relate to. |
Search for related items by subject
LDR
02111cam a22003614a 4500
001
2261041
003
SAGE
005
20201112204046.0
008
140131s2013 flud e bi 001 0 eng d
020

.

‡a

9780989772501 (softcover)
020

.

‡a

0989772500 (softcover)
035

.

‡a

(SKY)sky261508154
040

.

‡a

CNEDM

‡b

eng

‡c

CNEDM

‡d

VP@

‡d

CO2

‡d

CoBoFLC
082
0
4

.

‡a

808.3
100
1

.

‡a

Ackerman, Angela.
245
1
4

.

‡a

The negative trait thesaurus :

‡b

a writer's guide to character flaws /

‡c

Angela Ackerman, Becca Puglisi.
250

.

‡a

1st print ed.
264
1

.

‡a

[Jupiter, Fla.] :

‡b

JADD Pub.,

‡c

2013.
300

.

‡a

263 pages ;

‡c

26 cm.
336

.

‡a

text

‡b

txt

‡2

rdacontent
337

.

‡a

unmediated

‡b

n

‡2

rdamedia
338

.

‡a

volume

‡b

nc

‡2

rdacarrier
490
1

.

‡a

Writers helping writers.
504

.

‡a

Includes bibliographical references and index.
520

.

‡a

Crafting likable, interesting characters is a balancing act, and finding that perfect mix of strengths and weaknesses can be difficult. But the task has become easier thanks to The Negative Trait Thesaurus. Through its flaw-centric exploration of character arc, motivation, emotional wounds, and basic needs, writers will learn which flaws make the most sense for their heroes, villains, and other members of the story's cast. This book's vast collection of flaws will help writers to explore the possible causes, attitudes, behaviors, thoughts, and related emotions behind their characters' weaknesses so they can be written effectively and realistically. Common characterization pitfalls and methods to avoid them are also included, along with invaluable downloadable tools to aid in character creation. Written in list format and fully indexed, this brainstorming resource is perfect for creating deep, flawed characters that readers will relate to.
650
0

.

‡a

Fiction

‡x

Technique.
650
0

.

‡a

Villains in literature.
650
0

.

‡a

Characters and characteristics in literature.
700
1

.

‡a

Puglisi, Becca.
830
0

.

‡a

Writers helping writers.
902

.

‡a

MARCIVE 122020
999

.

‡e

Book
905

.

‡u

admin
901

.

‡a

sky261508154

‡b

SKY

‡c

2261041

‡t

biblio