---
My hero academia. Smash!!, Volume 4 / story & art by Hirofumi Neda ; original concept by Kohei Horikoshi.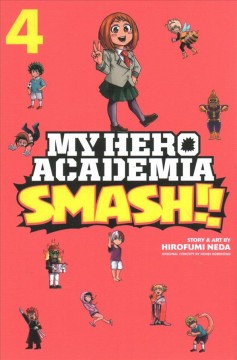 Available copies
Current holds
1 current hold with 2 total copies.
Summary:
In this zany volume of the My Hero Academia parody series, U.A.'s aspiring heroes move into the dorms to deter bad guys--but the League of Villains somehow enrolls in classes for a day anyway! Then, All Might administers some overly personal life-or-death training, Mineta becomes the subject of a murder mystery, and there's even body swapping! Who knew school could be so much fun? -- from cover.
Location
Call Number / Copy Notes
Barcode
Shelving Location
Circulation Modifier
Age Hold Protection
Active/Create Date
Status
Due Date

Pendleton Public Library

YA MANGA HoRiK

(Text)
37801000658805

Young Adult

Book
Branch_Only_3months
11/23/2020
Checked out
02/02/2021

The Dalles Wasco County Library

MYHER

(Text)
33892006590849

MANGA COLLECTION

Book
None
06/22/2020
Available
-
Record details
ISBN:

9781974708697

Physical Description:

136 pages : chiefly illustrations ; 19 cm.

Publisher:

Canada :

VIZ Media,

2020.
Content descriptions
| | |
| --- | --- |
| Summary, etc.: | In this zany volume of the My Hero Academia parody series, U.A.'s aspiring heroes move into the dorms to deter bad guys--but the League of Villains somehow enrolls in classes for a day anyway! Then, All Might administers some overly personal life-or-death training, Mineta becomes the subject of a murder mystery, and there's even body swapping! Who knew school could be so much fun? -- from cover. |
Search for related items by subject
LDR
01641nam a2200373Ki 4500
001
2198086
003
SAGE
005
20200730225203.0
008
200303s2020 xxca d 6 000 c eng d
020

.

‡a

9781974708697

‡c

$12.99
035

.

‡a

(CaOWLBI)pr05574110
035

.

‡a

pr05574110
040

.

‡a

CaOWLBI

‡b

eng

‡e

rda

‡c

CaOWLBI

‡d

WAC
041

.

‡a

eng
049

.

‡a

$LIBSAGO

‡s

AO

‡p

1

‡n

0001
082
0
4

.

‡a

[Fic]

‡2

23
100
1

.

‡a

Neda, Hirofumi.

‡0

(DLC)2118291
245
1
0

.

‡a

My hero academia.

‡p

Smash!!,

‡n

Volume 4 /

‡c

story & art by Hirofumi Neda ; original concept by Kohei Horikoshi.
264
1

.

‡a

Canada :

‡b

VIZ Media,

‡c

2020.
300

.

‡a

136 pages :

‡b

chiefly illustrations ;

‡c

19 cm.
336

.

‡a

text

‡b

txt

‡2

rdacontent
336

.

‡a

still image

‡b

sti

‡2

rdacontent
337

.

‡a

unmediated

‡b

n

‡2

rdamedia
338

.

‡a

volume

‡b

nc

‡2

rdacarrier
490
0

.

‡a

My Hero Academia: Smash!!;

‡v

4
520

.

‡a

In this zany volume of the My Hero Academia parody series, U.A.'s aspiring heroes move into the dorms to deter bad guys--but the League of Villains somehow enrolls in classes for a day anyway! Then, All Might administers some overly personal life-or-death training, Mineta becomes the subject of a murder mystery, and there's even body swapping! Who knew school could be so much fun? -- from cover.
650
0

.

‡a

Heroes

‡v

Comic books, strips, etc.

‡0

(DLC)1533847
650
0

.

‡a

AbilityComic books, strips, etc.
650
0

.

‡a

High school studentsComic books, strips, etc.
650
0

.

‡a

Sports festivalsComic books, strips, etc.
655
7

.

‡a

Comics (Graphic works)

‡2

lcgft

‡0

(DLC)1430038
655
7

.

‡a

Graphic novels.

‡2

lcgft

‡0

(DLC)1430198
902

.

‡a

MARCIVE 062020
999

.

‡e

Book
901

.

‡a

pr05574110

‡b

CaOWLBI

‡c

2198086

‡t

biblio