---
The three-cornered war : the Union, the Confederacy, and native peoples in the fight for the West / Megan Kate Nelson.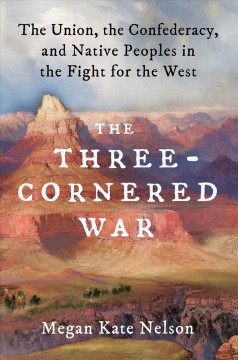 Available copies
Current holds
1 current hold with 5 total copies.
Summary:
"In The Three-Cornered War Megan Kate Nelson reveals the fascinating history of the Civil War in the American West. Exploring the connections among the Civil War, the Indian wars, and western expansion, Nelson reframes the era as one of national conflict--involving not just the North and South, but also the West. Against the backdrop of this larger series of battles, Nelson introduces nine individuals: John R. Baylor, a Texas legislator who established the Confederate Territory of Arizona; Louisa Hawkins Canby, a Union Army wife who nursed Confederate soldiers back to health in Santa Fe; James Carleton, a professional soldier who engineered campaigns against Navajos and Apaches; Kit Carson, a famous frontiersman who led a regiment of volunteers against the Texans, Navajos, Kiowas, and Comanches; Juanita, a Navajo weaver who resisted Union campaigns against her people; Bill Davidson, a soldier who fought in all of the Confederacy's major battles in New Mexico; Alonzo Ickis, an Iowa-born gold miner who fought on the side of the Union; John Clark, a friend of Abraham Lincoln's who embraced the Republican vision for the West as New Mexico's surveyor-general; and Mangas Coloradas, a revered Chiricahua Apache chief who worked to expand Apache territory in Arizona. As we learn how these nine charismatic individuals fought for self-determination and control of the region, we also see the importance of individual actions in the midst of a larger military conflict."
Location
Call Number / Copy Notes
Barcode
Shelving Location
Circulation Modifier
Age Hold Protection
Active/Create Date
Status
Due Date

Pendleton Public Library

978.02 N334

(Text)
37801000668499

Adult Non-Fiction

Book
None
06/04/2020
Available
-
Record details
ISBN:

9781501152542

ISBN:

1501152548

ISBN:

9781501152559

ISBN:

1501152556

Physical Description:

xx, 331 pages, 8 unnumbered pages of plates : illustrations, maps, portraits ; 24 cm

Edition:

First Scribner hardcover edition.

Publisher:

New York :

Scribner,

2020.

Copyright:

©2020.
Content descriptions
| | |
| --- | --- |
| Bibliography, etc. Note: | Includes bibliographical references (pages 259-314) and index. |
| Formatted Contents Note: | Those whom the gods would destroy. Baylor ; Mangas Coloradas ; Canby ; Davidson ; Juanita ; Ickis ; Valverde -- Trail men. Baylor ; Clark ; Glorieta ; Davidson ; Carleton ; Mangas Coloradas ; Canby ; Ickis -- Land of suffering. Mangas Coloradas ; Clark ; Tséyi' ; Carleton ; Juanita ; Clark ; Juanita. |
| Summary, etc.: | "In The Three-Cornered War Megan Kate Nelson reveals the fascinating history of the Civil War in the American West. Exploring the connections among the Civil War, the Indian wars, and western expansion, Nelson reframes the era as one of national conflict--involving not just the North and South, but also the West. Against the backdrop of this larger series of battles, Nelson introduces nine individuals: John R. Baylor, a Texas legislator who established the Confederate Territory of Arizona; Louisa Hawkins Canby, a Union Army wife who nursed Confederate soldiers back to health in Santa Fe; James Carleton, a professional soldier who engineered campaigns against Navajos and Apaches; Kit Carson, a famous frontiersman who led a regiment of volunteers against the Texans, Navajos, Kiowas, and Comanches; Juanita, a Navajo weaver who resisted Union campaigns against her people; Bill Davidson, a soldier who fought in all of the Confederacy's major battles in New Mexico; Alonzo Ickis, an Iowa-born gold miner who fought on the side of the Union; John Clark, a friend of Abraham Lincoln's who embraced the Republican vision for the West as New Mexico's surveyor-general; and Mangas Coloradas, a revered Chiricahua Apache chief who worked to expand Apache territory in Arizona. As we learn how these nine charismatic individuals fought for self-determination and control of the region, we also see the importance of individual actions in the midst of a larger military conflict." --Provided by publisher. |
Search for related items by subject