---
The positive trait thesaurus : a writer's guide to character attributes / Angela Ackerman, Becca Puglisi.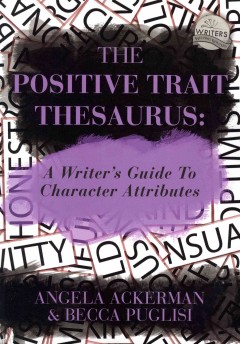 Available copies
Current holds
0 current holds with 1 total copy.
Summary:
"Inside The Positive Trait Thesaurus, you'll find a large selection of attributes to choose from when building a personality profile, real character examples from literature, film, or television to show how an attribute drives actions and decisions, influences goals, and steers relationships, advice on using positive traits to immediately hook readers while avoiding common personality pitfalls, insight on human needs and morality, and how each determines the strengths that emerge in heroes and villains alike, information on the key role positive attributes play within the character arc, and how they're vital to overcoming fatal flaws and achieving success, and downloadable tools for organizing a character's attributes and providing a deeper understanding of his past, his needs, and his emotional wounds."--
Search for related items by series
Location
Call Number / Copy Notes
Barcode
Shelving Location
Circulation Modifier
Age Hold Protection
Active/Create Date
Status
Due Date

Pendleton Public Library

808.3 A57

(Text)
37801000666683

Adult Non-Fiction

Book
None
11/13/2020
Available
-
Record details
ISBN:

9780989772518

ISBN:

0989772519

Physical Description:

241 pages : charts ; 26 cm.

Edition:

First print edition.

Publisher:

[Jupiter, Florida] :

JADD Publishing,

2013.

Copyright:

©2013.
Content descriptions
| | |
| --- | --- |
| Bibliography, etc. Note: | Includes bibliographical references and index. |
| Summary, etc.: | "Inside The Positive Trait Thesaurus, you'll find a large selection of attributes to choose from when building a personality profile, real character examples from literature, film, or television to show how an attribute drives actions and decisions, influences goals, and steers relationships, advice on using positive traits to immediately hook readers while avoiding common personality pitfalls, insight on human needs and morality, and how each determines the strengths that emerge in heroes and villains alike, information on the key role positive attributes play within the character arc, and how they're vital to overcoming fatal flaws and achieving success, and downloadable tools for organizing a character's attributes and providing a deeper understanding of his past, his needs, and his emotional wounds."-- Back cover. |
Search for related items by subject
LDR
02176cam a2200433Ii 4500
001
2047356
003
SAGE
005
20201112205012.0
008
140127s2013 flud e bi 001 0 eng d
020

.

‡a

9780989772518

‡q

(paperback)
020

.

‡a

0989772519

‡q

(paperback)
035

.

‡a

(OCoLC)869221682
040

.

‡a

OCO

‡b

eng

‡e

rda

‡c

OCO

‡d

VP@

‡d

GZM

‡d

CNEDM

‡d

OCLCF

‡d

XK4

‡d

BDX

‡d

DAD

‡d

OCLCQ

‡d

NYP
049

.

‡a

NYPP
050
4

.

‡a

PN3383.C4

‡b

A345 2013
082
0
4

.

‡a

808.3/97

‡2

23
091

.

‡a

808.397

‡c

A
100
1

.

‡a

Ackerman, Angela.

‡0

(DLC)2054593
245
1
4

.

‡a

The positive trait thesaurus :

‡b

a writer's guide to character attributes /

‡c

Angela Ackerman, Becca Puglisi.
250

.

‡a

First print edition.
264
1

.

‡a

[Jupiter, Florida] :

‡b

JADD Publishing,

‡c

2013.
264
4

.

‡c

©2013.
300

.

‡a

241 pages :

‡b

charts ;

‡c

26 cm.
336

.

‡a

text

‡b

txt

‡2

rdacontent.
337

.

‡a

unmediated

‡b

n

‡2

rdamedia.
338

.

‡a

volume

‡b

nc

‡2

rdacarrier.
490
1

.

‡a

Writers helping writers.
504

.

‡a

Includes bibliographical references and index.
520

.

‡a

"Inside The Positive Trait Thesaurus, you'll find a large selection of attributes to choose from when building a personality profile, real character examples from literature, film, or television to show how an attribute drives actions and decisions, influences goals, and steers relationships, advice on using positive traits to immediately hook readers while avoiding common personality pitfalls, insight on human needs and morality, and how each determines the strengths that emerge in heroes and villains alike, information on the key role positive attributes play within the character arc, and how they're vital to overcoming fatal flaws and achieving success, and downloadable tools for organizing a character's attributes and providing a deeper understanding of his past, his needs, and his emotional wounds."--

‡c

Back cover.
650
0

.

‡a

Fiction

‡x

Authorship.

‡0

(DLC)1447784
650
0

.

‡a

Fiction

‡x

Technique.

‡0

(DLC)1447765
650
0

.

‡a

Creative writing.

‡0

(DLC)1444157
650
0

.

‡a

English language

‡x

Style.

‡0

(DLC)1446353
650
0

.

‡a

English language

‡x

Rhetoric.

‡0

(DLC)1446492
700
1

.

‡a

Puglisi, Becca.

‡0

(DLC)2054596
830
0

.

‡a

Writers helping writers.
999

.

‡e

Book
901

.

‡a

869221682

‡b

OCoLC

‡c

2047356

‡t

biblio

‡s

System Local