---
The second story / by Neil Patrick Harris & Alec Azam ; story artistry by Lissy Marlin ; how-to magic by Kyle Hinton.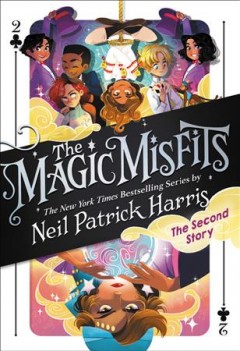 Available copies
Current holds
0 current holds with 10 total copies.
Summary:
Growing up in an orphanage, Leila was bullied for being different. She turned her hardship into skill by becoming an escape artist--a valuable trait when belonging to a group of magical best friends. But when a famous psychic comes to town, Leila and her pals won't be able to escape the big mystery heading their way. Whether chasing mad monkeys or banishing ghosts from haunted hotels, these six friends will do their best to keep Mineral Wells safe--but can they still protect themselves in the process?
Search for related items by series
Location
Call Number / Copy Notes
Barcode
Shelving Location
Circulation Modifier
Age Hold Protection
Active/Create Date
Status
Due Date

Pendleton Public Library

X HARRI

(Text)
37801000670164

Juvenile Fiction

Book
System_Only_3months
09/24/2020
Available
-
Record details
ISBN:

9780316391856

ISBN:

0316391859

Physical Description:

xii, 312 pages : illustrations ; 22 cm

Edition:

First edition.

Publisher:

New York :

Little, Brown and Company,

2018.
Content descriptions
| | |
| --- | --- |
| Summary, etc.: | Growing up in an orphanage, Leila was bullied for being different. She turned her hardship into skill by becoming an escape artist--a valuable trait when belonging to a group of magical best friends. But when a famous psychic comes to town, Leila and her pals won't be able to escape the big mystery heading their way. Whether chasing mad monkeys or banishing ghosts from haunted hotels, these six friends will do their best to keep Mineral Wells safe--but can they still protect themselves in the process? |
Search for related items by subject
LDR
02265nam a2200505 i 4500
001
2020323
003
SAGE
005
20200827224301.0
008
180111s2018 nyuab c 000 1 eng
010

.

‡a

2017056646
020

.

‡a

9780316391856

‡q

(hardcover :

‡q

alkaline paper)
020

.

‡a

0316391859

‡q

(hardcover :

‡q

alkaline paper)
035

.

‡a

(SKY)sky291786662
040

.

‡a

DLC

‡b

eng

‡e

rda

‡c

DLC

‡d

SKYRV

‡d

CoBoFLC

‡d

WAC

‡d

OR4
042

.

‡a

pcc

‡a

lcac
050
0
0

.

‡a

PZ7.1.H3747

‡b

Mam 2018
082
0
0

.

‡a

[Fic]

‡2

23
100
1

.

‡a

Harris, Neil Patrick,

‡d

1973-

‡e

author.

‡0

(SAGE)1940975
245
1
0

.

‡a

The second story /

‡c

by Neil Patrick Harris & Alec Azam ; story artistry by Lissy Marlin ; how-to magic by Kyle Hinton.
246
3

.

‡a

Magic misfits :

‡b

the second story.
250

.

‡a

First edition.
264
1

.

‡a

New York :

‡b

Little, Brown and Company,

‡c

2018.
300

.

‡a

xii, 312 pages :

‡b

illustrations ;

‡c

22 cm
336

.

‡a

text

‡2

rdacontent.
337

.

‡a

unmediated

‡2

rdamedia.
338

.

‡a

volume

‡2

rdacarrier.
490
1

.

‡a

Magic Misfits ;

‡v

book 01
520

.

‡a

Growing up in an orphanage, Leila was bullied for being different. She turned her hardship into skill by becoming an escape artist--a valuable trait when belonging to a group of magical best friends. But when a famous psychic comes to town, Leila and her pals won't be able to escape the big mystery heading their way. Whether chasing mad monkeys or banishing ghosts from haunted hotels, these six friends will do their best to keep Mineral Wells safe--but can they still protect themselves in the process?
650
0

.

‡a

Magic tricks

‡v

Fiction.

‡0

(SAGE)1519023
650
0

.

‡a

Orphans

‡v

Juvenile fiction.

‡0

(SAGE)1518847
650
0

.

‡a

Identity (Psychology)

‡v

Juvenile fiction.

‡0

(SAGE)1526445
650
0

.

‡a

Psychics

‡v

Juvenile fiction.
650
0

.

‡a

Friendship

‡v

Juvenile fiction.

‡0

(SAGE)1515254
650
0

.

‡a

Gay fathers

‡v

Juvenile fiction.
650
1

.

‡a

Magic tricks

‡v

Fiction.

‡0

(SAGE)1519023
650
1

.

‡a

Orphans

‡v

Fiction.

‡0

(SAGE)1519255
650
1

.

‡a

Identity

‡v

Fiction.
650
1

.

‡a

Psychics

‡v

Fiction.

‡0

(SAGE)1518854
650
1

.

‡a

Friendship

‡v

Fiction.

‡0

(SAGE)1515125
650
1

.

‡a

Gay fathers

‡v

Fiction.
655
7

.

‡a

Humorous fiction.

‡2

lcgft

‡0

(SAGE)1430234
700
1

.

‡a

Azam, Alec,

‡e

author.

‡0

(SAGE)2086515
700
1

.

‡a

Marlin, Lissy,

‡e

illustrator.

‡0

(SAGE)1623329
800
1

.

‡a

Harris, Neil Patrick,

‡d

1973-

‡t

Magic Misfits ;

‡v

02.

‡0

(SAGE)2084064
999

.

‡e

Book
901

.

‡a

sky291786662

‡b

SKY

‡c

2020323

‡t

biblio