---
No time to spare : thinking about what matters / Ursula K. Le Guin ; introduction by Karen Joy Fowler.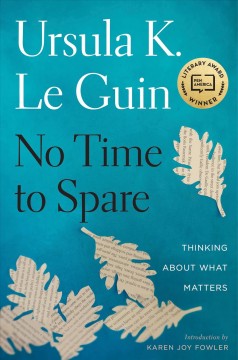 Available copies
Current holds
0 current holds with 10 total copies.
Summary:
"From acclaimed author Ursula K. Le Guin, and with an introduction by Karen Joy Fowler, a collection of thoughts--always adroit, often acerbic--on aging, belief, the state of literature, and the state of the nation. Ursula K. Le Guin has taken readers to imaginary worlds for decades. Now she's in the last great frontier of life, old age, and exploring new literary territory: the blog, a forum where her voice -- sharp, witty, as compassionate as it is critical -- shines. No Time to Spare collects the best of Ursula's blog, presenting perfectly crystallized dispatches on what matters to her now, her concerns with this world, and her wonder at it. On the absurdity of denying your age, she says, "If I'm ninety and believe I'm forty-five, I'm headed for a very bad time trying to get out of the bathtub." On cultural perceptions of fantasy: "The direction of escape is toward freedom. So what is 'escapism' an accusation of? " On her new cat: "He still won't sit on a lap"--
Location
Call Number / Copy Notes
Barcode
Shelving Location
Circulation Modifier
Age Hold Protection
Active/Create Date
Status
Due Date

Pendleton Public Library

814.54 L527

(Text)
37801000597003

Adult Non-Fiction

Book
Branch_Only_3months
01/08/2018
Available
-
Record details
ISBN:

9781328661593

ISBN:

1328661598

Physical Description:

xx, 215 pages ; 22 cm

Publisher:

Boston, MA :

Houghton Mifflin Harcourt,

2017.
Content descriptions
| | |
| --- | --- |
| Formatted Contents Note: | Part one: Going over eighty. In your spare time ; The sissy strikes back ; The diminished thing ; Catching up, ha ha -- The Annals of Pard. Choosing a cat ; Chosen by a cat -- Part two: The lit biz. Would you please fucking stop? ; Readers' questions ; Kids' letters ; Having my cake ; Papa H ; A much-needed literary award ; TGAN and TGOW ; TGAN again ; The narrative gift as a moral conundrum ; It doesn't have to be the way it is ; Utopiyin, utopiyang -- The Annals of Pard. The trouble ; Pard and the time machine -- Part three: Trying to make sense of it. A band of brothers, a stream of sisters ; Exorcists ; Uniforms ; Clinging desperately to a metaphor ; Lying it all away ; The inner child and the nude politician ; A modest proposal: vegempathy ; Belief in belief ; About anger -- The Annals of Pard. An unfinished education ; An unfinished education, continued ; Doggerel for my cat -- Part four: Rewards. The circling stars, the sea surrounding : Philip Glass and John Luther Adams ; Rehearsal ; Someone named Delores ; Without egg ; Notre-Dame de la Faim ; The tree ; The horsies upstairs ; First contact ; The lynx ; Notes from a week at a ranch in the Oregon high desert. |
| Summary, etc.: | "From acclaimed author Ursula K. Le Guin, and with an introduction by Karen Joy Fowler, a collection of thoughts--always adroit, often acerbic--on aging, belief, the state of literature, and the state of the nation. Ursula K. Le Guin has taken readers to imaginary worlds for decades. Now she's in the last great frontier of life, old age, and exploring new literary territory: the blog, a forum where her voice -- sharp, witty, as compassionate as it is critical -- shines. No Time to Spare collects the best of Ursula's blog, presenting perfectly crystallized dispatches on what matters to her now, her concerns with this world, and her wonder at it. On the absurdity of denying your age, she says, "If I'm ninety and believe I'm forty-five, I'm headed for a very bad time trying to get out of the bathtub." On cultural perceptions of fantasy: "The direction of escape is toward freedom. So what is 'escapism' an accusation of? " On her new cat: "He still won't sit on a lap"-- Provided by publisher. |
Search for related items by subject